Freedome App extends its reach to Mac And Kindle: F-Secure's digital security solution
Finland based leading internet security solution  company  F-Secure has come with a new version of its Freedome app to extend the protection for Mac platform and Amazon Kindle Fire. This extension was announced in the recently conducted MWC 2015 at Barcelona. This previous version of this app was available for iOS and Android operating systems. This app is developed to encrypt your apps and internet connection and allows you to surf the web safely.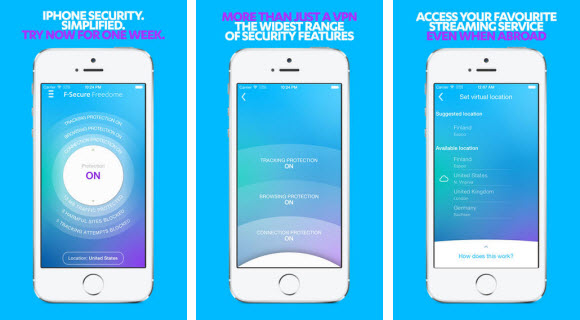 The use of Internet for content  and services have increased.  It has become a common choice for most advertisers. With the usage of internet rising, it is also apparent to protect one's data  and perform transactions securely . Today's digital world is prone to various kind of threats like viruses, phishing and spamming attacks, virtual bombs , hackers etc.
F-Secure Freedome  is a combination of anti-virus, anti-phishing  and VPN functionality as well as a tracking protection. This makes it more efficient in keeping away unwanted interruption while you browse or transact. The main purpose of this app is to protect from suspicious apps and websites. It uses a user friendly VPN   and custom control button to secure and keep private all your personal and important data. VPN acts as a guard at the entry point of internet traffic.
Some Main Features of F-Secure Freedome
Safe and Reliable – Freedome will ensure protection against harmful websites, malicious apps and softwares.
Privacy – Freedome lets you surf the web uninterruptedly, it encrypts your web session and it keeps away advertisers who want to track you. In app track functionality is also protected.
Digital Freedom with global access – It gives you the option to change your location and access the geo blocked websites.
Wireless protection: F-Secure Freedom gives you Wi-Fi protection and you can easily connect to public wireless hotspots for safe internet access.
Simple to use: With a single button, you can easily enable the desired security function.
Desktop and Mobiles: It is available for desktops, laptops and tablets.
Home and Business use: This app can be used by both home users as well as for commercial purpose.
Regions available – Freedome app is available for the United States, Canada, Latin America as well as European and Russian regions. Freedome has support for Android and iOS and the latest version supports Mac OS X and Amazon Kindle Fire.
Price – There is a trial period of seven days. After the trial is over, you can get a monthly or a yearly subscription. A monthly subscription will cost €4.49 [$4.99 or £2.99]. You will have to pay €26.99 [$29.99 or £20.99] for a yearly subscription of this app.
We can say that F-Secure is a nice app for your total online security needs and will be apparent on all the major platforms.
By

Nivin JS

In Apps
— 11 Mar, 2015