Facebook Messenger contents Skype, FaceTime and Hangouts
Apart from providing a social platform, Facebook now tries to bring people together face to face. The largest social media network is now pushing forward itself to have a direct interface between people across the world. Earlier the Whatsapp, a company took over by Facebook has introduced voice calling facility last month. Now Facebook itself has come out with video calling facility. Even though the world is large and distinct in culture, Facebook tries to bring them all together under a roof. With the introduction of video calling facility Facebook is moving forward in accomplishing this objective.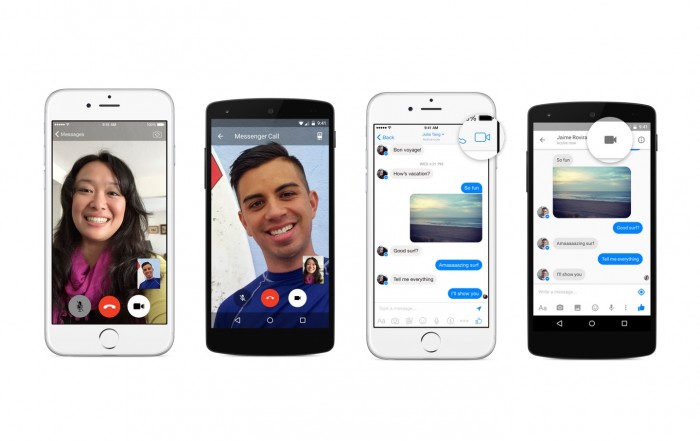 Facebook has introduced the new feature of video calling and tend to compete with Skype introduced by Microsoft Corporation, FaceTime of Apple Incorporation and also with Hangouts of Google Incorporations. All these allow video calling facility on computers, laptops, tablets, netbooks, handsets etc. The messenger feature was actually incorporated with the services of Facebook long ago. But now the video calling facility has also been added to it enabling it to compete with the key players of the technology world.
Now with the introduction of new feature of video calling on Messenger App, the Facebook users can have a face to face conversation with their friends, family relatives and others. This will help in enhancing relations between persons. This all could happen by just tapping on a single button in the Messenger Application. Facebook published on its blog last 27th April that new feature would allow the video calling facility even if the call is made between the persons, one using an iOS platform handset and another using an Android smartphone.
Video Chatting is easy with Messenger. What you have to do is to simply tap the contact details of the friend to whom you want to talk with. Then touch on the camera icon seen at the top of the screen. The video chat is possible. Facebook also claims that their service is better than those their counterparts in the market. Facebook also allows the user to change swiftly from texting mode to video mode, which other won't allow with much ease.
Brian Blau, Research Director at Garter Inc, a U.S Technology Research and Advisory Firm has the opinion that, incorporating the video calling facility to Messenger instead of adding it to Facebook would be a part of their new strategy. Also the messenger is the application with the core objective of having person to person interface, whereas Facebook is a social media network.
Video Calling facility will be available to iOS users as well as to android users in UK, USA, Portugal, Nigeria, Norway, Poland, Oman, Uruguay, Ireland, Mexico, Lithuania, Greece, Laos, France, Canada, Denmark, Croatia and Belgium. The statistics showed that more than 600 million people around the globe uses the Messenger Application to keep in touch. By integrating the video calling feature the Messenger could deliver the option to have face to face conversation to these 600 million people. The new feature is expected to enhance the customer base of Messenger to more.
By

Vineesh Nair

In Apps
— 29 Apr, 2015